The Reno-Lab-C project faces two current challenges at the heart of the Brussels housing market:
1) develop an approach to collection renovations,
2) and with private owners and tenants who are not currently able to renovate for reasons such as access to finance, administrative and practical complications, difficulties in finding a contractor, tendering, monitoring etc.
In the historic areas of Molenbeek-St-Jean, in whose heart the Bonnevie community centre has been active for 40 years, it is proposed to carry out scans of 80 housing units and around 30 in-depth diagnoses of private houses. To this end KU-Leuven, with BAST, is bringing the expertise it gained on the Renoseec project in Ghent. An innovative experiment will be undertaken to see how a target group, who most of the time do not consult an architect in any considerations of their accommodation, can take part in a long term vision of their house's energy performance. The Reno-Lab aims to spread an understanding of energy performance and a good (financial) plan, so as to avoid any "lock-in", and make sure that the right steps are taken towards low energy and the passive standard, linked to an integrated package of collective renovation. As well as its financial benefits, the project also addresses a strong demand to ease the difficulties for people who all too often carry out works with the means at their disposal, and to improve the healthiness and comfort of their accommodation.
The Brussels Sint-Lucas campus (architectural faculty) brings a perspective of housing quality and architectural value. The WWZ Centre d'Expertise and Belgian Ageing Studies (VUB) produce proposals for housing adaptation, as well as study small scale concepts for the adaptation of accommodation for the aged and people of diminished capacity. The viability of re-using materials in the spirit of a circular economy is examined by ROTOR, and Renovassistance is participating with Community Land Trust in considering ways of setting up new forms of financing with the assistance of the social housing circuit. The architect Guido Stegen (ARSIS) brings the expertise he has acquired from his long project experience, and the GS-L architects assure the in-depth monitoring of renovations, facilitated by the collective approach.
Based on these test cases at Molenbeek-St-Jean, a roadmap will be drawn up that could be re-used, once the experiment is broadened, by the other Réseau Logement partners. The "Research Centre for Economics and Corporate Sustainability" examines and quantifies the gains in terms of energy, environment, and waste reduction, and puts these in perspective in terms of the mobilisation of public resources.
an initiative of

with the support of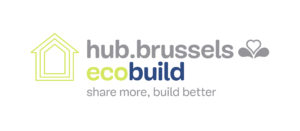 Technical sheet of this architecture video clip
Journalist: Emma C. Dessouroux
Cameramen: Emma C. Dessouroux (Les Délires Productions), Didier Minne & Geoffroy Minne (Kinoflight)
Editing: Emma C. Dessouroux, Cristina Dias
Postproduction: Cristina Dias
Music: Gabriel Govea Ramos
Direction: Mister Emma
Production: Les Délires Productions
Translation: MDR Translations
Subtitles: Orico Studio
Speakers: CHRISTEL DESPY (Renovation Advisor – Maison de Quartier Bonnevie) – BENOIT LEMMENS (Architect – Atelier Moneo) – PATRICK MOYERSOEN (Architect-Researcher – Faculty Architecture and Design, Sint-Lucas Brussels – KU Leuven) – AN-SOFIE SMETCOREN (Department of Educational Sciences – VUB) – TOM VERBEKE (Faculty of Economics and Business – Cedon – KU Leuven) – ALEXIS VERSELE (Faculty of Engineering Technology, Building Physics & Sustainable Design – KU Leuven)