The Reno-Lab-C project faces two current challenges at the heart of the Brussels housing market:
1) develop an approach to collection renovations,
2) and with private owners and tenants who are not currently able to renovate for reasons such as access to finance, administrative and practical complications, difficulties in finding a contractor, tendering, monitoring etc.
In the historic areas of Molenbeek-St-Jean, in whose heart the Bonnevie community centre has been active for 40 years, it is proposed to carry out scans of 80 housing units and around 30 in-depth diagnoses of private houses. To this end KU-Leuven, with BAST, is bringing the expertise it gained on the Renoseec project in Ghent. An innovative experiment will be undertaken to see how a target group, who most of the time do not consult an architect in any considerations of their accommodation, can take part in a long term vision of their house's energy performance. The Reno-Lab aims to spread an understanding of energy performance and a good (financial) plan, so as to avoid any "lock-in", and make sure that the right steps are taken towards low energy and the passive standard, linked to an integrated package of collective renovation. As well as its financial benefits, the project also addresses a strong demand to ease the difficulties for people who all too often carry out works with the means at their disposal, and to improve the healthiness and comfort of their accommodation.
The Brussels Sint-Lucas campus (architectural faculty) brings a perspective of housing quality and architectural value. The WWZ Centre d'Expertise and Belgian Ageing Studies (VUB) produce proposals for housing adaptation, as well as study small scale concepts for the adaptation of accommodation for the aged and people of diminished capacity. The viability of re-using materials in the spirit of a circular economy is examined by ROTOR, and Renovassistance is participating with Community Land Trust in considering ways of setting up new forms of financing with the assistance of the social housing circuit. The architect Guido Stegen (ARSIS) brings the expertise he has acquired from his long project experience, and the GS-L architects assure the in-depth monitoring of renovations, facilitated by the collective approach.
Based on these test cases at Molenbeek-St-Jean, a roadmap will be drawn up that could be re-used, once the experiment is broadened, by the other Réseau Logement partners. The "Research Centre for Economics and Corporate Sustainability" examines and quantifies the gains in terms of energy, environment, and waste reduction, and puts these in perspective in terms of the mobilisation of public resources.
an initiative of

with the support of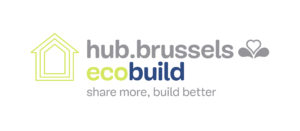 Technical sheet of this architecture video clip
Journalist : Emma C. Dessouroux
Cameraman : Didier Minne – Geoffroy Minne / Kinoflight
Editing : Emma C. Dessouroux / Cristina Dias
Direction : Emma C. Dessouroux
Production : Les Délires Productions
Translation : MDR Translations
Subtitles : Anne-Marie Diriken – Emma C. Dessouroux / Les Délires Productions
Speakers : Patrick Moyersoen, Architect-Researcher / Sint-Lukas, KULeuven ; Christel Despy, Renovation Advisor, Maison de Quartier Bonnevie ; Souad Kamal ; Redwan Kamal
Subtitles
De renovatie van het bestaande woningpark
La rénovation du parc de logements existant
The renovation of existing properties
is een enorme opgave
est une tâche énorme
is an enormous task
en de livinglab laat toe
et le livinglab permet
and the livinglab enables
om daar eigenlijk over na te denken
d'y réfléchir
this to be thought through
terwijl dat we eigenlijk bezig zijn
tout en étant en fait en train
while actually in the process
aan het renoveren.
déjà de rénover.
of doing the renovation.
Dat is interessant omdat dus de inzet
C'est intéressant parce que l'effort
It's interesting because this practical effort
vanuit de praktijk lessen leert
pratique permet de tirer des enseignements
teaches us lessons
en anderszijds we vanuit het onderzoek eigenlijk
et d'autre part l'étude nous
and furthermore the research
daarop kunnen kijken
offre un regard clair
gives us a clearer view of it
en daar ook mee kunnen aansturen.
qui permet de piloter le tout.
and shows how to manage the whole thing.
C'est pas encore cuit…
Het is nog niet gaar…
It's not ready yet,
encore un peu.
nog eventjes.
I should leave it a bit more.
Les conseils, ça ne suffit pas pour rénover.
Advies geven alleen, dat volstaat niet om te renoveren.
Advice is not enough when it comes to renovation.
C'est clair, il faut aider les gens.
Zoveel is duidelijk. Je moet de mensen helpen,
This is obvious– people must be helped.
Il faut simplifier la vie de tout le monde.
Iedereen het leven eenvoudiger maken.
The lives of everybody must be simplified.
Tout le monde a des problèmes de famille,
Iedereen heeft problemen: familiale problemen,
Everybody has family problems,
de logement, de santé
huisvestingsproblemen, gezondheidsproblemen…
housing, health problems,
et le logement n'est plus une priorité.
en dan is huisvesting geen prioriteit meer.
and housing is no longer a priority.
Il ne doit pas l'être.
Dat mag het ook niet zijn.
And so it shouldn't be.
La vie n'est pas autour d'un logement
Het leven draait niet om een woning
Life does not revolve around a home
et ça il faut entendre aussi.
en dat moet je ook verstaan.
and that must also be understood.
J'habitais rue de Courtrai
Ik woonde in de Kortrijkstraat,
I used to live in Rue de Courtrai,
dans un appartement
in een appartement,
in an apartment
mais mon fils était asthmatique là-bas
maar mijn zoon had daar last van astma
but my son was asthmatic there,
parce qu'il y avait du tapis par terre
omdat er tapijt op de grond lag
because there was carpet on the floor
et il y avait de l'humidité aussi.
en er waren ook vochtproblemen.
and there was also some damp.
Et je voulais acheter un appartement ou une maison
Ik wilde een appartement of een huis kopen
I wanted to buy an apartment or a house
pour améliorer l'état de santé de mon fils.
om de gezondheidstoestand van mijn zoon te verbeteren.
to improve my son's health.
J'ai aussi une petite fille, Lyssam.
Ik heb ook een dochtertje, Lyssam.
I also have a little girl, Lyssam.
Je voulais éviter les problèmes de santé.
Ik wilde gezondheidsproblemen vermijden.
I wanted to avoid any health problems.
J'étais pas bien là-bas.
Ik zat daar niet goed.
I wasn't happy there.
Je ne me sentais pas bien là-bas voilà.
Kortom, ik voelde er mij niet goed.
I didn't feel good there, that's all.
J'ai quatre enfants maintenant à la maison
Ik heb nu vier kinderen thuis,
I have four children now at home
mais c'est petit pour nous.
maar het huis is klein voor ons.
but the house is small for us.
Nous sommes une famille nombreuse.
We zijn een kroostrijk gezin.
We're a large family.
Maintenant qu'ils ont grandi,
Nu ze groter zijn geworden,
Now that they've grown
je me rends compte que la maison est petite
besef ik dat het huis klein is
I realise how small the house is
et il y a tellement de choses à faire !
en dat er zoveel aan te doen is!
and there is such a lot to do!
Eh bien, j'attends qu'ils sortent de chez moi !
Wel, ik wacht tot ze het huis uit zijn!
So I'm just waiting for them to leave home!
Notre objectif est d'utiliser tout le travail
We willen al het werk dat we hier
Our aim is to capitalize on all the work
qu'on a fait ici depuis 40 ans
de laatste 40 jaar hebben verricht
that we've done over the past 40 years
sur l'accompagnement des personnes,
qua begeleiding van mensen bij
on supporting people
sur leur projet de rénovation.
hun renovatieprojecten benutten.
and use it for their renovation projects.
Nous aimerions développer des outils
We willen instrumenten ontwikkelen
We would like to develop tools
pour travailler sur les freins.
om de hinderpalen weg te werken.
to eliminate the obstacles.
J'ai ouvert un restaurant à Saint-Gilles
Ik had in Sint-Gillis een restaurantje geopend
I had a restaurant in Saint Gilles
et ça n'a pas marché comme il faut.
en dat heeft niet gedraaid zoals het moet.
but it didn't work out as planned.
J'ai fait une faillite.
Ik ben failliet gegaan.
I went bankrupt.
Et là, j'ai pas mal de dettes…
En daardoor heb ik een heleboel schulden…
And now, I've got quite a few debts…
Je voulais même vendre la maison
Ik wou het huis zelfs verkopen
I even wanted to sell the house
avec l'aide d'un notaire.
met de hulp van een notaris.
with the help of a notary.
Je suis rentré dans un règlement collectif de dettes
Ik ben in een collectieve schuldenregeling gestapt
I entered into a collective debt settlement
et maintenant je suis comme intérim dans l'Horeca.
en nu werk ik als uitzendkracht in de horeca.
and now I'm working on a temp basis in catering.
Je suis chef de rang.
Ik werk als chef de rang.
I'm a head waiter.
C'est un travail qui vient et qui s'en va.
Maar het zijn allemaal tijdelijke uitzendopdrachten.
It's work that comes and goes.
J'espère un jour tomber sur un travail fixe
Ik hoop op een dag een vaste baan te vinden,
I hope one day to find a permanent job
mais bon… j'ai quand même 54 ans,
maar goed… ik ben al 54 jaar,
but I'm 54 years old,
je suis diabétique,
ik heb diabetes,
I'm diabetic,
j'ai eu un problème de cœur…
ik heb hartproblemen gehad…
I've had a heart problem…
alors tout ça, c'est…
dat is allemaal…
so with all that, it's…
Maintenant pour faire un crédit ce n'est pas possible.
Nu een lening aangaan is onmogelijk.
it's not possible now to get a loan.
Je voudrais pas faire un crédit,
Ik zou geen lening willen aangaan,
I wouldn't want to get a loan,
peut-être un petit.
of misschien voor een klein bedrag.
maybe just a little one.
Un petit truc comme ça mais pas…
Iets klein, maar niets…
A little one, but not…
On est vraiment partis sur une étude sociologique,
We zijn echt vertrokken vanuit een sociologische studie,
We really started from a sociological study,
c'est une étude Methos
een studie van Methos,
a study by Methos
qui se base sur l'usage des bâtiments
die zich baseert op het gebruik van energie-efficiënte
that's based on the use of energy performant
en performance énergétique en région bruxelloise.
woningen in het Brussels Gewest.
buildings in the Brussels Region.
On est partis de ce travail
We hebben ons op dat werk gebaseerd
We started out on this work
pour déterminer les freins
om de hinderpalen te identificeren
to ascertain what the obstacles are
au niveau de deux rapports :
op twee vlakken:
on two levels:
c'est le rapport à l'écosystème.
enerzijds de relatie met het ecosysteem.
First there is the relationship to the ecosystem.
Donc toutes les connaissances
Dus alle kennis die
So all the knowledge
que les propriétaires prennent au fil de leur évolution.
de eigenaars tijdens hun ontwikkeling opdoen.
that the owners acquire in the course of their evolution.
Puis il y a tout ce qui est administratif.
Daarnaast is er ook het hele administratieve aspect.
And then there's everything that's administrative.
Tout ce qui constitue de vraies difficultés
Alles wat echt voor iedereen
All those things that are real difficulties
pour tout un chacun.
moeilijk is.
for everyone.
Ce sont tous nos rapports à l'usage,
Dat is heel onze houding tegenover
That's all our relationships
à l'entretien de nos logements.
het gebruik, het onderhoud van onze woningen.
to the use and upkeep of our housing.
On va avoir les connaissances des réseaux.
Men verwerft kennis over de netwerken.
We're acquiring insights about the networks.
Qu'est-ce qui existe ?
Wat bestaat er allemaal?
What exists?
Les primes à la rénovation, c'est quoi ?
Renovatiepremies, wat zijn dat?
Renovation subsidies, what are they?
C'est qui ? C'est pourquoi ?
Voor wie zijn ze? Waarvoor?
For whom are they? For what?
Comment fonctionnent les aides financières régionales ?
Regionale steun, hoe werkt dat precies?
How does regional financial assistance work?
Quand les entrepreneurs viennent-ils ?
Wanneer komen de aannemers?
When are the contractors coming?
C'est compliqué de comprendre
Het is ook moeilijk te begrijpen
It's complicated, understanding
exactement ce qu'ils font
wat ze precies doen en
exactly what they're doing
et la technicité, c'est compliqué.
de technische kant van de zaak, dat is ingewikkeld.
and all the technical aspects, it's complicated.
Donc, savoir si les travaux qu'on paie sont qualitatifs,
Dus, weten of de werken waarvoor je betaalt,
So, knowing if the work you're paying for
sont de qualité ou pas,
van goede kwaliteit zijn of niet,
is high quality or not,
c'est pas facile
dat is niet eenvoudig.
that's not easy.
et donc il y a beaucoup de personnes
Er zijn dus veel mensen die om de tuin worden
And so there are a lot of people
qui se font avoir par des entreprises
geleid door bedrijven die
who get ripped off by businesses
qui ne terminent pas les travaux
het werk niet afmaken
who don't finish the job
ou qui les font mal avec des mauvais produits
of het met slechte materialen uitvoeren.
or who do it badly with poor products.
et donc les gens investissent beaucoup d'argent
Mensen investeren dus grote sommen geld
And so people invest a lot of money
pour – par exemple – isoler leur toiture
in – bijvoorbeeld – dakisolatie
to, for instance, insulate their roof
et, au final, les performances ne sont pas atteintes
en uiteindelijk worden de prestaties niet gehaald
and in the end the performance targets are not met
parce que c'est mal mis en œuvre.
omdat het werk slecht is uitgevoerd.
because it's been poorly done.
Het objectief van het projekt is om te komen
L'objectif du projet est aussi d'arriver
The aim of the project is also to end up
tot een model die effectief kan
à un modèle qui peut encore
with a model that can be effectively
verder ontwikkeld worden en…
être développé de manière effective et …
developed further and …
uitgerold worden op een grote schaal.
être déroulé à grande échelle.
rolled out on a large scale.
Er zijn al meer dans 500.000 woningen in Brussel
Il y a déjà plus de 500.000 logements à Bruxelles
There are already more than 500,000 homes in Brussels
en die moeten op termijn
et à terme ils doivent être
and in time they will
allemaal gerenoveerd worden.
tous rénovés.
all have to be renovated.
Hier zitten we op een heel precaire plek
Nous sommes ici dans un contexte très précaire
We are in a very precarious situation
om dat te doen.
pour faire cela.
in which to do this.
Het is een heel interessante,
C'est un projet très intéressant,
It's a very interesting,
een heel kritische projekt om over…
très critique,
very critical project,
laat ons zeggen woningen
de réfléchir à la rénovation
thinking through the renovation
renovatie na te denken
de logements
of housing
en daar tegelijkertijd een heel belangrijke sociaal
et en même temps d'y adjoindre une composante
while at the same time adding to it
component aan te koppelen.
sociale très importante.
a very important social component.
Het gaat niet alleen over energie sanering
Il ne s'agit pas uniquement d'économie d'énergie
It's not only about energy savings
maar het gaat effectief over woonzekerheid,
mais il s'agit aussi de sécurité de logement,
but also about the safety of accommodation,
stadsvernieuwing en dergelijke dingen meer.
de rénovation urbaine et autres choses de ce type.
urban renovation and other things of this nature.