The "Vrije Universeit Brussel" (VUB) is aiming for the sustainable management of its estate [VUB 2011]. In this respect the renovation of student residences in the heart of the Ixelles university campus, designed by the architect Willy Van Der Meeren between 1971 and 1973, presents a particular challenge.
These dwellings have strong cultural and historic value [De Kooning 1997], but equally they require a financially feasible, future-oriented procedure in order to adjust their energy performance.
The proposed Living Lab aims to offer a practical response to this problem by developing innovative renovation strategies that take into account and compare four different elements, namely: energy, heritage, sustainability and economy.
A project team has been set up, comprising two project partners who, together with experts and construction firms, possess the theoretical expertise and the necessary practical experience in each of these elements.
In practical terms, the WVDM Living Lab will start by defining four to six different renovation strategies. Each strategy will be focused on two of the four elements mentioned, in order for the conditions and effects to be carefully evaluated, in the short as well as the long term. For example, the emphasis on heritage and sustainability could be translated into a concept in which "reversibility" is central; the planned works can be easily undone, so that the heritage remains intact and the future re-use of materials reduces to a maximum the environmental impact. Following analysis, three or four innovative and appropriate concepts will be selected, each of which will be applied to a four bedroom student unit of around 400 m².
The proposed Living Lab, by means of analysis, construction and monitoring (before and after renovation) will deliver added value, and the potential for use not only in other buildings on the university campus but also in the post-war heritage of the Brussels Capital Region. The proposed strategies and models will be equally suitable for these buildings.
an initiative of

with the support of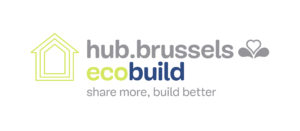 Technical sheet of this architecture video clip
Journalist : Emma C. Dessouroux
Cameramen : Emanuel Pinto / EpiProd
Editing : Emma C. Dessouroux / Cristina Dias
Direction : Emma C. Dessouroux
Production : Les Délires Productions
Translation : MDR Translations
Subtitles : Anne-Marie Diriken – Emma C. Dessouroux / Les Délires Productions
Speakers : Waldo Galle, Policy advisor and researcher sustainable transitions, co-promotor, VUB Architectural Engineering / Francis Geldof, Architect and coordinator, VUB Infrastructure Directorate
Subtitles
Deze site werd gebouwd
Ce site a été construit
This site was constructed
in opdracht van de VUB
pour le compte de la VUB
on behalf of the VUB
door Willy Van Der Meeren,
par Willy Van Der Meeren,
by Willy Van Der Meeren,
die op dat moment op zoek was
qui à ce moment-là était à la recherche
who at that time had been looking
naar een snelbouwsysteem.
d'un système de construction rapide.
for a rapid construction system.
In de jaren 70,
Dans les années 70,
In the 1970s,
in opdracht van andere maatschappijen
à la demande d'autres entreprises
at the request of other companies
die in die tijd uitdagingen wilden aangaan,
qui à l'époque voulaient relever des défis,
who at the time were keen to take on challenges,
hier is 50 jaar geleden dus in feit
c'est donc un système de construction
it was a very innovative system of construction
een zeer innovatief bouwsysteem ontwikkeld.
très innovant qui a été développé ici il y a 50 ans.
that was developed here 50 years ago.
Vandaag zijn er eigenlijk heel veel kwaliteiten
Aujourd'hui, il y a énormément de qualités
These days there is enormous quality
die we nu pas terug ontdekken in deze koten.
que nous ne redécouvrons que maintenant dans ces kots.
that we're only just rediscovering in these student rooms.
Ze vormen niet alleen eigenlijk een dorp
Ils ne forment pas seulement un village
They don't just form a village
in het midden van de campus
au milieu du campus
in the middle of the campus
waar het aangenaam en fijn is
où il est agréable
where it's pleasant
om als student te leven.
de vivre en tant qu'étudiant.
to live as a student.
Als we luisteren naar oud studenten
Quand nous parlons à d'anciens étudiants,
When we talk to old students
dan gaan zij ook de waarde en het amusement
eux aussi apprécient la valeur et l'amusement
they too appreciate the value and the enjoyment
van deze plekken appreciëren.
de ces endroits.
of these places.
Maar eigenlijk weten we ook dat deze koten
Mais nous savons en fait aussi que ces kots
But actually we also know that these student rooms
bijzonder innovatief waren destijds.
étaient particulièrement innovants à l'époque.
were particularly innovative at the time.
Het zijn niet alleen
Ce ne sont pas seulement
They aren't just
modulair geprefabriceerde gebouwen
des bâtiments préfabriqués de façon modulaire
prefabricated modular buildings
maar ze maken ook gebruik van materialen
mais ils utilisent aussi des matériaux
but they also use materials
die toen echt heel nieuw waren
qui à l'époque étaient vraiment très innovants ;
that at the time were very new,
en op zich waren zij een experiment « avant la lettre »
en soi, ils étaient un peu une expérience avant la lettre
they were a kind of experiment way ahead
voor het innovatief bouwen
de construction innovante
of innovative construction
in Vlaanderen en in Brussel.
en Flandre et à Bruxelles.
in Flanders and Brussels.
De Livinglabs binnen de ganse VUB
Les Livinglabs au sein de la VUB
The Livinglabs at the heart of the VUB
zijn onderzoekscentra waar
sont des centres de recherche auxquels
are research centres in which
verschillende mensen binnen en buiten
beaucoup de gens, à l'intérieur et à l'extérieur
many people, on the inside and on the outside
de VUB kunnen aan deelnemen.
de la VUB, peuvent prendre part.
of the VUB, can participate.
We vinden ze op verschillende plaatsen
Nous les trouvons en différents endroits
We find them in various places
binnen de VUB,
au sein de la VUB,
in the VUB,
ook in het toekomstige « Youth square » bijvoorbeeld.
par exemple aussi dans le futur « Youth square ».
for example also in the future "Youth Square".
Maar hier gaan we heel concreet
Mais ici nous allons très concrètement
But here we're going to look at architecture
naar architectuur gaan kijken,
nous intéresser à l'architecture,
in a very practical way,
vooral de mensen Architecture Engineering,
surtout les gens d'Architecture Engineering,
especially the people from Architecture Engineering,
de faculteit die academisch de zaken onderzoekt
la faculté qui examine les choses sous l'angle académique
the faculty that has for a very long time examined things
sinds heel lange tijd en die daar ook
depuis très longtemps et qui a déjà aussi
from an academic angle and which has also
veel publicaties ondertussen over gemaakt heeft
publié beaucoup de choses sur le sujet.
published a great deal on this subject.
en uiteindelijk bij ons terecht komt
Et finalement ils arrivent chez nous
And finally they come to our place
om de opvolging te doen
pour faire le suivi
to do the monitoring
van concrete nieuwe uitdagingen
de nouveaux défis concrets
of new practical challenges
in de tijd waar Europese en Belgische normen
à une époque où les normes européennes
at a time when European and Belgian standards
heel belangrijk zijn
et belges sont très importantes,
are very important
in het kader van energie,
en matière d'énergie,
in terms of energy,
in het kader van acoustiek,
en matière d'acoustique,
in terms of acoustics,
in het kader van verluchtingen
en matière de ventilation
in terms of ventilation
en in het kader van materiaalhergebruik.
et en matière de réutilisation des matériaux.
and in terms of the re-use of materials.
De renovatie van de studentenkoten is
La rénovation des kots d'étudiants est
The renovation of the student rooms
niet alleen een noodzakelijke energie-renovatie
non seulement une rénovation énergétique nécessaire,
is not just a necessary energy refurbishment;
maar die strategie moet in evenwicht gebracht worden
mais cette stratégie doit aussi être mise en balance
this strategy must also be weighed up against
met de erfgoedwaarde van de gebouwen,
avec la valeur patrimoniale des bâtiments,
the heritage value of the buildings,
met de milieugerelateerde materiaalprestaties
avec les performances environnementales des matériaux
and the environmental performance of the materials,
maar ook met de betaalbaarheid van het project.
mais aussi avec l'aspect 'payable' du projet.
but also the affordability aspect of the project.
En al die factoren samenbrengen
Et le rassemblement de tous ces facteurs,
And the bringing together of all these factors,
het herkennen van de waarden
la reconnaissance des valeurs
the recognition of the values
maar ook de risico's daarvan,
mais également des risques,
but also of the risks, that is all made
dat kan dankzij het Willy Van Der Meeren livinglab.
c'est possible grâce au LivingLab de Willy Van Der Meeren.
possible thanks to the Willy Van Der Meeren livinglab.
We doen dat met architecten,
Nous travaillons avec des architectes,
We work with architects,
met aannemers maar ook
avec des entrepreneurs, mais aussi
with contractors, but also
met allerlei specialiste ingenieurs
avec toutes sortes d'ingénieurs spécialisés
with all sorts of specialised engineers
waarvoor een oproep is gelanceerd.
pour qui un appel à candidatures a été lancé.
for whom we have invited applications.
Voorbije weken is een heel innovatief bestek
Ces dernières semaines, un cahier des charges
In recent weeks a very innovative specification
gepubliceerd op Europees niveau
très innovant a été publié au niveau européen
has been published across Europe
– « A Procurement » –
– « A Procurement » –
– "A Procurement" –
waar gezocht wordt achter teams
où on recherche des équipes.
where we're looking for teams.
die dan door de selectie gaan
Celles-ci parcourent alors la sélection
They go through the selection process
en die lopende de selectie
et ce faisant
and when they're doing this
in feite hun project zullen voorstellen,
elles vont en fait présenter leur projet.
they'll actually be presenting their project.
die daar ook kunnen rekenen
Elles peuvent aussi compter
They can also count on
op een steun van Inoviris
sur le soutien d'Inoviris
the support of Inoviris
voor de vergoeding van hun onderzoek,
pour être rétribuées pour leur étude.
to be remunerated for their study.
om dan te eindigen bij een team
On arrive ensuite à une équipe
We then end up with a team
dat in feite maquetten zal maken
qui va en fait faire des maquettes
that will in fact make models
en tot definitieve oplossingen
et développer des solutions définitives
and develop definitive solutions
die kunnen toegepast worden,
qui vont pouvoir être appliquées,
that will be applicable,
niet alleen op de VUB maar ook in Brussel
pas seulement à la VUB mais aussi à Bruxelles
not just in the VUB but also in Brussels
of daarbuiten voor dit soort architectur.
ou ailleurs, pour ce type d'architecture.
or elsewhere, for this type of architecture.
Op die manier realizeren we
Nous réalisons ainsi
In this way we carry out
een echt heel mooi voorbeeldproject
un très beau projet-modèle
a very beautiful model-project
voor het Brusselse gewest,
pour la Région bruxelloise,
for the Brussels Region,
waarin de uitdagingen die we hier zien
dans lequel nous relevons le défi
in which we take up the challenge
het evenwicht vinden tussen milieu,
de trouver l'équilibre entre l'environnement,
of finding a balance between the environment,
erfgoed en kosten bijvoorbeeld,
le patrimoine et les coûts, par exemple,
the heritage and the costs, for example
dat wij gaan kunnen demonstreren
et dont nous pouvons faire la démonstration
and which we can demonstrate,
want die uitdagingen zitten vandaag
car ces défis se retrouvent aujourd'hui
because such challenges can now also be found
elders op de regio.
aussi ailleurs dans la région.
elsewhere in the region.