In 1954 Brussels was endowed with a model city (Cité Modèle) designed by the architect Renaat Braem. Today this city is the focus of a renovation and construction project led by a group of architects: B2Ai (Brussels), a33 (Leuven), and Maenhout/Van den Bergh (Brussels), on behalf of the Laeken Housing Association and the SLRB.
with the support of SLRB-BGHM / Brussels Region Social Housing Agency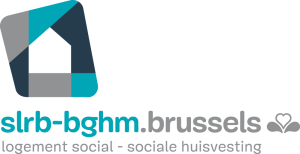 Project name: Cité Modèle
Address: Cité Modèle. 1020 Brussels
Assignation/Destination:
Cité Modèle 9+-15+ : 142
Cité Modèle 16-17 : 68
ð 210 logements réalisés.
L'immeuble 16 prévois également un restaurant social (Financé par le Foyer Laekenois : 598.500,00 €)
Cité Modèle 18-21 : 132 (4x 33)
Cité Modèle 22 : 27
logements solidaires dont 6 adaptés PMR.
ð 159 logements en cours d'élaboration.
Cité Modèle 9+-15+ : 142
Cité Modèle 16-17 : 68
ð 210 logements réalisés.
L'immeuble 16 prévois également un restaurant social (Financé par le Foyer Laekenois : 598.500,00 €)
Cité Modèle 18-21 : 132 (4x 33)
Cité Modèle 22 : 27
logements solidaires dont 6 adaptés PMR.
ð 159 logements en cours d'élaboration.
Cité Modèle 9+-15+ : 142
Cité Modèle 16-17 : 68
ð 210 logements réalisés.
L'immeuble 16 prévois également un restaurant social (Financé par le Foyer Laekenois : 598.500,00 €)
Cité Modèle 18-21 : 132 (4x 33)
Cité Modèle 22 : 27
logements solidaires dont 6 adaptés PMR.
ð 159 logements en cours d'élaboration.
Name of client: Foyer Laekenois
Name of architect:
in association with:
Name of engineers:
– Stability Consultancy firm:
– Special techniques Consultancy firm:
– EPC Consultancy firm:
– Acoustics Consultancy firm:
– Healt & Safety Coordinator:
– Control Agency:
Name of contractors:
– Main contractor:
Cité Modèle 9+-15+ : THV EGTA-Floré
Cité Modèle 16-17 : CFE Brabant
Cité Modèle 18-22 : (NA / nvt)
Project status :
Preliminary project: Cité Modèle 18-22
Completed : Cité Modèle 9+-15+: 3/05/2012 / Cité Modèle 16-17: 25/04/2014
Size of project: 17ha
Budget:
Cité Modèle 9+-15+: 22.074.271,63 €
Cité Modèle 16-17: 10.720.833,23 €
Cité Modèle 18-22: 29.790.800,16 € (estimation, pas encore réalisé)
Technical sheet of this architecture video clip
Journalist: Emma C. Dessouroux
Cameramen: Didier Minne – Geoffroy Minne / Kinodoc – Julien Stroïnovsky / Novsky Films
Editing: Emma C. Dessouroux / Cristina Dias
Direction: Emma C. Dessouroux
Production: Les Délires Productions
Translation: MDR Translations
Subtitles: Les Délires Productions
Archive: Archi Urbain S.8 / Ep.22 – 2014
Speakers: Marc Meganck (Historian) – Geert Blervacq (Architect – B2Ai)
Subtitles
FR
La Cité Modèle se situe
NL
De Modelwijk ligt
AN
The Cité Modèle is located

FR
tout près du plateau du Heysel, de l'Atomium.
NL
vlak bij de Heizelvlakte en het Atomium,
AN
very close to the Heysel plateau and the Atomium,

FR
Entre l'avenue de l'Arbre Ballon et la chaussée Romaine.
NL
tussen de Dikke-Beuklaan en de Romeinsesteenweg.
AN
between the Avenue de l'Arbre Ballon and the Chaussée Romaine.

FR
C'est un site tout à fait exceptionnel
NL
Het is een heel bijzondere site
AN
It's a quite exceptional site

FR
pour l'histoire du modernisme en Belgique.
NL
voor de geschiedenis van het modernisme in België.
AN
in terms of the history of modernism in Belgium.

FR
On peut s'attarder un moment sur le nom de la cité.
NL
Laten we even stilstaan bij de naam van de wijk.
AN
Let's dwell for a moment on the name of the city.

FR
Cité Modèle. Il s'agit de constituer une vitrine,
NL
Modelwijk. De wijk moet een visitekaartje worden,
AN
Cité Modèle, a 'model city'.

FR
un modèle de ce que sont les idées progressistes belges
NL
een model van alle Belgische progressieve ideeën
AN
It was all about creating a showcase, a model of what were

FR
en matière de logement social.
NL
op het vlak van sociale huisvesting.
AN
progressive Belgian ideas in terms of social housing.

FR
Le lancement du chantier date de 1954-1955.
NL
De wijk werd in 1954-1955 in de steigers gezet.
AN
Construction began in 1954-55.

FR
A ce moment-là, il est question de montrer
NL
Op dat ogenblik is het de bedoeling om haar
AN
At that time the intention was to display

FR
ce chantier pour l'Expo 58.
NL
tijdens Expo 58 aan de bezoekers te tonen.
AN
the site at Expo 58.

FR
Pendant l'Expo, il y eut une maquette
NL
Tijdens de Expo werd in het paviljoen voor huisvesting
AN
During the Expo, there was just a scale model

FR
de la Cité Modèle qui fut montrée dans le pavillon du logement
NL
echter alleen een maquette van de Modelwijk getoond,
AN
of the Cité Modèle in the housing pavilion as, unfortunately,

FR
car, malheureusement, le chantier va prendre presque 20 ans.
NL
want de werken zelf zullen helaas bijna 20 jaar duren.
AN
construction was going to take almost another twenty years.

FR
Il sera achevé seulement dans les années 70.
NL
De wijk raakt pas in de jaren 70 af.
AN
It was only completed in the seventies.

FR
La valeur architecturale et patrimoniale de la Cité Modèle
NL
Sinds de jaren 90 wordt de architecturale en erfgoedkundige
AN
The architectural and heritage value of the Cité Modèle

FR
est reconnue dès les années 90.
NL
waarde van de Modelwijk erkend.
AN
has been recognised since the nineties.

FR
Malheureusement, à ce moment-là,
NL
Helaas zijn de recentste gebouwen
AN
Unfortunately, at that time,

FR
les derniers bâtiments ont à peine 20 ans
NL
op dat ogenblik amper 20 jaar oud en
AN
the most recent buildings were hardly 20 years old,

FR
et les immeubles commencent déjà à se dégrader,
NL
beginnen ze al sleet te vertonen
AN
and were already beginning to deteriorate,

FR
à être vieillissants.
NL
en verouderd te raken.
AN
and showing their age.

FR
On va penser, petit à petit, à une rénovation en profondeur
NL
Geleidelijk groeit het idee om de bestaande gebouwen
AN
Little by little thinking turned to a full-scale renovation

FR
des immeubles existants et à compléter la cité
NL
grondig te renoveren en de wijk uit te breiden
AN
of the existing buildings and completion of the city

FR
en faisant construire des logements supplémentaires.
NL
met extra woongelegenheden.
AN
by building additional housing.

FR
La demande consistait dans un premier temps
NL
De vraag was in eerste instantie
AN
The commission consisted in the first instance

FR
à conserver le nombre d'appartements
NL
het aantal appartementen te behouden
AN
of preserving the large number of flats

FR
dans la Cité Modèle,
NL
in de modelwijk,
AN
in the Cité Modèle,

FR
c'est-à-dire environ 1030
NL
dus een 1030tal,
AN
around some 1,030

FR
auxquels nous en avons encore ajouté,
NL
ik zal straks uitleggen want we hebben ook nog meer gebouwd dan de 1030,
AN
to which we have added more,

FR
mais aussi de mettre les appartements en conformité
NL
maar ook om de appartementen conform te maken
AN
and also to bring the flats into compliance

FR
avec les normes de confort actuelles.
NL
aan de huidige normen.
AN
with modern comfort standards.

FR
La superficie d'origine des appartements
NL
De oppervlakte van de appartementen, initieel,
AN
The original surface area of the flats

FR
correspond aux superficies minimum actuelles.
NL
komen overeen met de minimumoppervlakten van vandaag.
AN
corresponds to the minimum standard today.

FR
Nous avons donc agrandi tous les appartements
NL
Dus we hebben alle appartementen eigenlijk vergroot
AN
We therefore enlarged all the flats

FR
à la superficie maximum
NL
naar de maximumoppervlakte
AN
up the maximum area

FR
demandée par la SLRB.
NL
die de BGHM huidig vraagt voor de appartementen.
AN
requested by the SLRB.

FR
Ce qui veut dire que dans la surface construite
NL
Dat maakt dat we eigenlijk in aantal
AN
Which means that in the built area

FR
nous perdons en nombre d'appartements.
NL
in de bestaande bebouwing appartementen verliezen,
AN
we have lost a number of flats.

FR
Nous avons donc prévu des extensions,
NL
en daarvoor hebben we ook uitbreidingen voorzien aan de gebouwen,
AN
We have therefore planned extensions,

FR
d'une part en allongeant des bâtiments
NL
enerzijds door enkele gebouwen te verlengen
AN
both by lengthening the buildings

FR
et d'autre part en en ajoutant.
NL
maar ook door andere gebouwen toe te voegen.
AN
and by adding to them too.

FR
Les architectes qui ont œuvré à la Cité Modèle
NL
De architecten die aan de Modelwijk hebben gewerkt,
AN
The architects who worked on the Cité Modèle

FR
se sont grandement inspirés des principes développés
NL
hebben zich in belangrijke mate laten inspireren door de
AN
were greatly inspired by the principles developed

FR
par Le Corbusier à la Cité Radieuse, ou encore
NL
principes van Le Corbusier voor de Cité Radieuse,
AN
by Le Corbusier on the Cité Radieuse, or

FR
des principes édictés pour la Charte d'Athènes en 1933.
NL
en door de principes uit het Charter van Athene van 1933.
AN
the principles laid down by the Athens Charter in 1933 anyway.

FR
Il s'agit de privilégier la verticalité d'une part
NL
Daarin gaat de voorkeur uit naar bouwen in de hoogte
AN
This firstly meant favouring verticality,

FR
et la construction sur pilotis d'autre part.
NL
en bouwen op heipalen.
AN
as well as construction on piles.

FR
On crée des hautes tours sur pilotis
NL
Dus zijn hier hoge torens op heipalen gebouwd
AN
High towers on piles were created

FR
pour libérer de la place au sol.
NL
om op grondniveau ruimte vrij te houden.
AN
to free up the space on the ground.

FR
On va aussi favoriser l'horizontalité.
NL
Ook horizontaliteit wordt aangemoedigd.
AN
Horizontality was also favoured.

FR
La plupart de ces trois grandes tours sont desservies
NL
De meeste appartementen in deze drie hoge torens
AN
These three high towers are mostly served

FR
par des coursives sur tout le long.
NL
zijn bereikbaar via galerijen
AN
by passageways that run the whole length,

FR
Elles desservent les appartements.
NL
over de hele breedte.
AN
serving the apartments.

FR
Il y a vraiment ce jeu entre horizontalité et verticalité
NL
Dit spel tussen horizontale en verticale lijnen
AN
There really is this play between the horizontal and vertical,

FR
qui est une des caractéristiques fondamentales
NL
is een van de fundamentele kenmerken
AN
which is one of the basic features

FR
de ces trois immeubles tours qui font plus de 60 mètres.
NL
van deze drie meer dan 60 meter hoge torengebouwen.
AN
of these three taller than 60 metre buildings.

FR
Les bâtiments ont été déshabillés
NL
De gebouwen zijn gestript
AN
The buildings were undressed right down

FR
jusqu'à leur structure nue.
NL
tot op de naakte structuur,
AN
to their bare structure.

FR
Les murs intérieurs non porteurs
NL
alle niet-dragende binnenwanden,
AN
The internal non-supporting walls and all

FR
et toutes les techniques ont été abattus et renouvelés.
NL
alle technieken zijn eruit gehaald en vernieuwd.
AN
the old plumbing and electrics were stripped out and replaced.

FR
Une nouvelle chape a été coulée,
NL
Ook nieuwe chape gestort,
AN
A new screed was cast, which apart from

FR
entre autres pour permettre les améliorations acoustiques.
NL
ook om die akoestische verbeteringen te kunnen uitvoeren.
AN
anything else would make for acoustic improvements.

FR
Pour les façades, nous avons recherché
NL
En voor de gevels hebben we speciaal gezocht
AN
For the façades we went for

FR
un look contemporain. Nous ne voulions pas un look
NL
naar een hedendaagse look en niet zozeer een look
AN
a contemporary look. We didn't want it to look
FR
de logements sociaux, mais quelque chose
NL
van een sociale woninggebouw, maar de bedoeling was ook
AN
like social housing, but something

FR
qui avait du cachet.
NL
daar ook een speciaal cachet aan te geven
AN
with a bit of class.

FR
Nous voulions offrir de la qualité aux gens qui habitent ici,
NL
en een kwaliteit te geven aan de mensen die hier wonen
AN
We wanted to provide quality to the people who lived here,

FR
et en même temps une certaine identité,
NL
en tegelijkertijd toch ook een zekere identiteit
AN
and also a certain identity,

FR
dans le prolongement des bâtiments existants.
NL
te kunnen waarborgen ook in functie van de huidige gebouwen.
AN
by prolonging the life of the existing buildings.

FR
Nous avons donc respecté la trame,
NL
Dus we respecteren het stramien van de gevel,
AN
So we respected the framework,

FR
la structure des façades, mais avec un nouveau matériau,
NL
de structuur van de gevel maar met een nieuw materiaal
AN
the structure of the façade, but with new materials

FR
et ici on a par exemple à présent
NL
en we zien nu in dit geval
AN
– here for example we now have

FR
une véritable couverture vitrée de la façade.
NL
een glazen bekleding van de gevel.
AN
a complete glass covering of the façade.

FR
Le Cité Modèle, c'est 17 hectares, 2600 habitants.
NL
De Modelwijk is 17 hectaren groot en telt 2600 inwoners.
AN
The Cité Modèle covers 17 hectares and has 2600 inhabitants.

FR
C'est vraiment une petite ville dans la ville.
NL
Het is echt een ministad in de stad.
AN
It really is a little city within the city.

FR
Le souci majeur de la Société du Logement a vraiment été
NL
Er een kwaliteitsvolle woonlocatie van maken was
AN
The main concern of the Housing Association during

FR
pendant le réaménagement d'en faire un lieu de qualité.
NL
bij de renovatie de hoofdzorg van de Huisvestingsmaatschappij.
AN
the redevelopment was to turn it into a place of quality.

FR
L'idée est de créer non seulement du logement social
NL
Het idee is om niet alleen sociale woningen,
AN
The idea was to create not only social housing

FR
mais aussi du logement à prix moyen
NL
maar ook middenklassewoningen aan te bieden
AN
but also mid-priced housing,

FR
car le but est vraiment de favoriser la mixité sociale.
NL
om de sociale mix in de wijk te bevorderen.
AN
the aim being to promote social diversity.

FR
Donc, c'est bien de faire du logement
NL
Het is goed om extra woongelegenheid te creëren, maar
AN
It's a good thing to do housing,

FR
mais il faut éviter le côté ghetto
NL
daarbij moet je erop letten dat je geen getto creëert en
AN
but you need to avoid ghettoisation

FR
et ouvrir la cité à d'autres catégories sociales.
NL
dat je de wijk ook openstelt voor andere sociale groepen.
AN
and open up the place to other social groups.