The Cité Moderne of Berchem-Sainte-Agathe (Brussels) was constructed between 1922 and 1925 by the architect Victor Bourgeois. Two plots of land remained unbuilt. When the SLRB-BGHM asked the B2Ai architectural practice to think about new buildings, the question was about what kind of architectural statement should be made, faced with this architectural gem which made Victor Bourgeois famous, and which in 1925 was awarded the 'International Exhibition of Modern Decorative and Industrial Arts' Grand Prix in Paris.
with the support of SLRB-BGHM / Brussels Region Social Housing Agency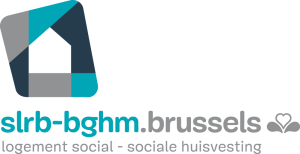 Project name: Cité Moderne (Gérance Termonde)
Address: Rue de la Gérance et Clos Victor Bourgeois (Rue Termonde et Rue Openveld)
Assignation/Destination: Construction of a social housing complex.
Site Gérance : 43 dwellings / 8 with 1 room, 8 with 2 rooms, 16 with 3 rooms, 5 with 4 rooms, 6 with 5 rooms.
Site Termonde : 32 dwellings / 7 with 1 room, 6 with 2 rooms, 11 with 3 rooms, 4 with 4 rooms, 4 with 5 rooms.
Name of client: Société du Logement de la Région Bruxelles-Capitale (SLRB)
Name of architect: BURO II & ARCHI+I [current name B2Ai]
in association with: BOUYGUES BELGIUM – ADVISERS
Name of engineers:
– Stability Consultancy firm: B2Ai and NEY & PARTNERS
– Special techniques Consultancy firm: B2Ai and SOLIREMY
– EPC Consultancy firm: B2Ai and MATRICIEL
– Acoustics Consultancy firm: B2Ai and TECHNUM
– Healt & Safety Coordinator: B2Ai and ADVISERS
– Control Agency :
Name of contractors:
– Main contractor: BOUYGUES BELGIUM
– Professions/trades:
Closed shell construction : SOCATRA
Sanitary + HVAC : CODUME
Electrical : CCELEC
Smoke and heat exhaust installation : BRB TECHNICS
Metalling : TAMCO
Chapes : MIOT & BRESCIANI
Rubber floorings : AM-PARQUETS
Windows : PIERRET SYSTEM
Painting : ROSE & PARTNERS
Stairs : VERSCHAEVE CONSTRUCT
Woodworking interior : THEUMA
Garden : WEGEBO – COLAS
Roads and signalisation : WEGEBO
Floor tiles : DISER SERVICE – AVM-CARLINO
Project status:
Completed: 2012
Size of project: Land use of the building 3.374 sqm / Gross floor area: 8.900 sqm
Budget: 12.784.069,74 euros
Technical sheet of this architecture video clip
Journalist : Emma C. Dessouroux
Cameramen : Didier Minne – Geoffroy Minne / Kinodoc – Julien Stroïnovsky / Novsky Films
Editing : Emma C. Dessouroux / Cristina Dias
Direction : Emma C. Dessouroux
Production : Les Délires Productions
Translation : MDR Translations
Subtitles : Les Délires Productions
Speakers : Marc Meganck (Historian) – Christian Troosters (Architect – B2Ai)
Subtitles
FR
La Cité Moderne est située à Berchem-Sainte-Agathe.
NL
De Cité Moderne ligt in Sint-Agatha-Berchem.
AN
The Cité Moderne is located in Berchem-Sainte-Agathe

FR
C'est un site majeur pour l'architecture
NL
Het is een belangrijke plaats voor de
AN
It's a major site

FR
moderniste à Bruxelles.
NL
modernistische architectuur in Brussel.
AN
for modernist architecture in Brussels

FR
L'architecte est Victor Bourgeois.
NL
De architect is Victor Bourgeois.
AN
The architect is Victor Bourgeois.

FR
A l'époque où il crée cette cité, il est encore très jeune.
NL
Wanneer hij deze woonwijk ontwerpt, is hij nog heel jong.
AN
At the time he created this city, he was still very young.

FR
Il n'a que 25 ans.
NL
Amper 25 jaar.
AN
He was only 25 years old.

FR
Il va vraiment pouvoir laisser libre cours
NL
Hij mag zijn architectuurideeën in
AN
He was really going to be able to give free rein

FR
à ses idées en matière d'architecture.
NL
alle vrijheid uitwerken.
AN
to his ideas on the subject of architecture.

FR
Il va vraiment développer une architecture
NL
Hij ontwikkelt echt een kubistische,
AN
He really was going to develop an architecture

FR
cubique, standardisée, rationnelle.
NL
gestandaardiseerde, rationele architectuur.
AN
that was cubic, standardised, rational.

FR
Il va tenter de limiter au maximum toutes les ornementations.
NL
Hij probeert versieringen tot een minimum te beperken.
AN
He was going to limit to a maximum all ornamentation.

FR
C'est un premier exemple en Belgique
NL
De wijk is een eerste voorbeeld in België
AN
It's one of the first examples in Belgium

FR
d'architecture moderniste, cubique.
NL
van modernistische, kubistische architectuur.
AN
of modernist cubic architecture.

FR
Il a modifié les perspectives que l'on pouvait avoir
NL
Hij heeft de perspectieven veranderd die je daarvoor
AN
He altered the perspectives we previously had

FR
dans les villes précédemment par des ruptures,
NL
in steden terugvond, door te werken met breuklijnen,
AN
in cities by using discontinuity,

FR
par des différences de profondeur dans les bâtiments,
NL
gebouwen met verschillende dieptes,
AN
by varying the depth of buildings,

FR
des redents et en utilisant des techniques architecturales
NL
zaagtandopstellingen en andere architectuurtechnieken
AN
using recesses, and a variety of architectural techniques

FR
différentes qui sont les loggias, les balcons,
NL
zoals loggia's, balkons
AN
such as loggias, balconies,

FR
les toitures plates. Cela a généré des espaces publics
NL
en platte daken. Hierdoor zijn heel kwaliteitsvolle
AN
and flat roofs. This resulted in public spaces

FR
de très grande qualité, plus aérés
NL
publieke ruimtes ontstaan, die ook veel luchtiger waren,
AN
of very high quality, airier,

FR
et aussi des petites ruelles, des cheminements différenciés
NL
maar ook kleine straatjes en andere wandeltrajecten
AN
with little alleyways and pathways that were

FR
de ce que l'on avait dans les villes précédemment.
NL
dan vroeger in steden gebruikelijk was.
AN
very different from what cities previously looked like.

FR
Le site de la Cité Moderne est encadré
NL
De Cité Moderne wordt omgeven
AN
The Cité Moderne is surrounded

FR
par des grands axes de communication :
NL
door grote verkeersassen:
AN
by important lines of communication:

FR
l'avenue Charles-Quint, l'avenue Jos Goffin.
NL
de Keizer Karellaan, de Josse Goffinlaan.
AN
Avenue Charles-Quint, Avenue Jos Goffin.

FR
Par contre, à l'intérieur de la cité, c'est tout autre chose.
NL
Maar in de wijk zelf heerst een heel ander gevoel.
AN
But inside the city, it's something else completely.

FR
Victor Bourgeois a voulu privilégier les rues courtes
NL
Victor Bourgeois heeft bewust voor korte straten
AN
Victor Bourgeois favoured short streets

FR
et les placettes pour créer plus de convivialité.
NL
en pleintjes gekozen om de wijk gezelliger te maken.
AN
and plots of land to create more conviviality.

FR
Des espaces plus restreints.
NL
Voor kleinere ruimtes.
AN
Spaces that are more confined.

FR
On a une impression d'une petite ville, d'un village.
NL
De wijk voelt aan als een stadje, een dorp.
AN
You get the impression of a little town, or a village.

FR
Bourgeois a aussi développé 15 types de logements différents,
NL
Bourgeois heeft ook 15 verschillende soorten woningen
AN
Bourgeois also developed 15 different types of housing,

FR
15 types d'habitat. Cela casse le rythme.
NL
ontworpen, 15 woonvormen. Dat breekt het ritme.
AN
15 types of habitation. It breaks up the rhythm.

FR
C'est moins systématique dans les alignements.
NL
Het lijnenspel is minder systematisch.
AN
It's less systematic in the alignment.

FR
Cela crée beaucoup d'originalité.
NL
Het zorgt ook voor veel originaliteit.
AN
And it creates a lot of originality.

FR
Il y a enfin un caractère plus urbain avec cette utilisation
NL
Door het gebruik van verschillende modellen en
AN
It actually gives it a more urban character

FR
de différents gabarits, de différents volumes
NL
volumes heeft deze wijk een meer stedelijk
AN
with this use of different templates, different volumes,

FR
que dans les autres cités jardins de l'époque.
NL
karakter dan de andere tuinwijken uit die tijd.
AN
than in the other garden cities of the time.

FR
En 2007, on va décider de construire
NL
In 2007 wordt beslist om woningen
AN
In 2007 it was decided to construct

FR
encore plus de logements dans la Cité Moderne.
NL
bij te bouwen in de Cité Moderne.
AN
even more housing in the Cité Moderne.

FR
On va faire ça dans la périphérie de la cité,
NL
Dat gebeurt aan de rand van de wijk,
AN
It was going to be done on the periphery of the city,

FR
notamment rue de Termonde et rue de la Gérance.
NL
namelijk in de Dendermondestraat en de Beheersstraat.
AN
Particularly on Rue de Termonde and Rue de la Gérance.

FR
La demande portait sur deux sites :
NL
De vraag betrof twee sites:
AN
The commission covered two sites: the Gérance site

FR
le site Gérance qui se trouve au bout de la rue de la Gérance
NL
de site Gérance aan het einde van de Beheerstraat
AN
which is located at the end of the Rue de la Gérance,

FR
et le site Termonde en bordure de la rue de Termonde.
NL
en de site Termonde langs de Dendermondestraat.
AN
and the Termonde site which borders the Rue de Termonde.

FR
Ce sont vraiment deux sites distincts
NL
Het zijn echt twee aparte sites,
AN
They are really two separate sites

FR
qui représentent, ensemble, environ 13 hectares de terrain
NL
samen goed voor ongeveer 13 hectaren,
AN
which together account for around 13 hectares of land,

FR
sur lesquel nous avons développé deux projets différents.
NL
waarop we twee verschillende projecten hebben gerealiseerd.
AN
and on which we've developed two very different projects.

FR
On s'est basés sur ce que Victor Bourgeois avait développé
NL
We hebben ons gebaseerd op wat Victor Bourgeois
AN
We based ourselves on what Victor Bourgeois had developed

FR
dans les années 20.
NL
in de jaren '20 had gebouwd.
AN
in the 1920s.

FR
Il avait utilisé une construction architecturale qui était
NL
Hij had gebruik gemaakt van een architecturale constructie
AN
He had used a form of architectural construction

FR
basée essentiellement sur les retraits et les avancées.
NL
die in essentie op insprongen en uitsprongen was gebaseerd.
AN
which was essentially based on retractions and extensions.

FR
Nous avons proposé pas mal de différenciation
NL
We hebben ervoor gekozen heel wat variatie
AN
We suggested quite a bit of differentiation

FR
dans les façades des immeubles de par la création de balcons,
NL
in de gevels van de gebouwen te brengen door te werken met
AN
in the buildings' façades by creating balconies,

FR
de loggias, de pare-soleil et de creux dans les immeubles.
NL
balkons, loggia's, zonneschermen en insprongen in de gebouwen.
AN
loggias, sunshades and recesses in the buildings.

FR
Nous avons décidé de créer des événements
NL
We hebben beslist om op bepaalde plaatsen evenementen
AN
We decided to make something

FR
à certains endroits et notamment à l'entrée des sites
NL
te creëren, met name aan de ingang van de sites
AN
of certain places and particularly at the entrance

FR
où nous avons disposé
NL
waar we gebouwen hebben neergezet
AN
to the sites where we used buildings

FR
des bâtiments plus hauts que les autres.
NL
die hoger zijn dan de andere.
AN
that are higher than the others.

FR
Ici, on va jusqu'à des rez +3, de façon à vraiment marquer
NL
De gebouwen zijn hier 4 verdiepingen hoog, om de ingang
AN
We go up three floors above ground floor here, to really mark out

FR
l'entrée des sites et aussi à rythmer les voiries
NL
van de sites duidelijk te markeren en een bepaald ritme
AN
mark out the entrance to the sites and also to set the pace

FR
que l'on a créées à l'intérieur des sites.
NL
te geven aan de straten die we binnen de sites hebben gecreëerd.
AN
for the roadways that we have put in on the inside.

FR
A l'arrière de chacun des deux sites,
NL
In het achterste gedeelte van elk van beide sites
AN
Behind each of the two sites

FR
on a les ensembles de maisons individuelles
NL
liggen de eengezinswoningen,
AN
we've got the individual housing complexes,

FR
qui sont classiquement posées côte à côte
NL
die klassiek zijn uitgelijnd
AN
which are placed traditionally one next to each other,

FR
ou en redent comme on le voit ici sur le site Termonde.
NL
of in zaagtandopstelling, zoals in de site Termonde.
AN
or recessed as we see here on the Termonde site,

FR
Ils viennent fermer la perspective. A l'arrière, nous avons
NL
Ze vormen het eindpunt van het perspectief. Erachter liggen
AN
serving to close off the perspective. At the back

FR
encore des jardins privatifs pour chacune des maisons.
NL
dan nog de privétuinen van deze woningen.
AN
we still have a private garden for each of the houses.

FR
En ce qui concerne les matériaux, nous avons utilisé
NL
Voor wat de materiaalkeuze betreft, hebben we
AN
As for the materials, we used

FR
– à l'image de ce qu'avait fait Victor Bourgeois
NL
– naar het voorbeeld van wat Victor Bourgeois in de Cité
AN
– in the image of what Victor Bourgeois

FR
dans la Cité Moderne – deux matériaux essentiels
NL
Moderne heeft gedaan – besloten om voor de gevels
AN
had done in the Cité Moderne – two basic materials

FR
pour les façades : le béton architectonique de teinte blanche
NL
twee hoofdmaterialen te gebruiken: wit architectonisch beton,
AN
for the façades: architectural concrete coloured white

FR
qui répond assez bien à l'enduit blanc
NL
dat vrij goed aansluit op de witte pleisterlaag
AN
that complements quite well the white rendering

FR
qu'avait utilisé Victor Bourgeois, et le bois.
NL
die Victor Bourgeois heeft gebruikt, en hout.
AN
used by Victor Bourgeois, and wood.

FR
C'est un bois naturel. C'est du mélèze non traité.
NL
Het is natuurlijk, onbehandeld lorkenhout.
AN
It's a natural wood. Untreated larch.

FR
On a essayé de donner un peu plus de vie et de couleurs
NL
Met de keuze om dit natuurlijke hout voor alle insprongen
AN
We tried to add a bit more life and colour

FR
en utilisant ce bois naturel dans tous les creux,
NL
en doorgangen te gebruiken, wilden we een beetje
AN
by using this natural wood in all the recesses,

FR
tous les percements. Donc, nous l'avons utilisé
NL
meer leven en kleur introduceren. Het hout is daarom gebruikt
AN
all the openings. We used it

FR
pour les châssis, les volets, les pare-soleil
NL
voor de ramen, luiken, zonneweringen
AN
for the frames, the shutters, sunshades,

FR
et tous les revêtements de façade
NL
en gevelbekleding
AN
and all the recessed façade cladding

FR
qui sont en retrait : les balcons, les terrasses.
NL
van alle inspringende delen: balkons, terrassen.
AN
– the balconies, the terraces.