The Reyers construction project, managed by the BEAI and Lassoie Van Eyck & Associates offices on behalf of the SLRB (Brussels Region Social Housing Agency), is taking root between Rue Colonel Bourg and the E40. The project is located in a rapidly evolving zone, as the Mediapark project is to be developed on the RTBF-VRT site. The project will offer various types of housing, serviced by a walkway along the rear façade overlooking a large interior garden which integrates an orchard of around forty fruit trees.
with the support of SLRB-BGHM / Brussels Region Social Housing Agency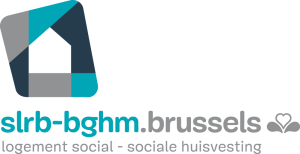 Project name : Reyers
Address : rue Colonel Bourg. 1030 Brussels – Belgium
Assignation/Destination : 84 passive standards social housing
Name of client : SLRB / Société du Logement de la Région de Bruxelles-Capitale – BGHM / Brusselse Gewestelijke Huisvestingsmaatschappij
Name of architect : Association momentanée BEAI + LVE
in association with : Entreprise Houyoux (marché P.P.P.)
Name of engineers :
– Stability Consultancy firm : Setesco
– Special techniques Consultancy firm : FTI
– EPC Consultancy firm : FTI
– Acoustics Consultancy firm : –
– Healt & Safety Coordinator : Houyoux
– Control Agency : Vincotte
Name of contractors :
– Main contractor : Houyoux Constructions
Project status :
Completed : 2016
Size of project : 9,625 sqm
Budget : 17 031 262 €
Technical sheet of this architecture video clip
Journalist : Emma C. Dessouroux
Cameramen : Didier Minne – Geoffroy Minne / Kinodoc – Julien Stroïnovsky / Novsky Films
Editing : Emma C. Dessouroux / Cristina Dias
Direction : Emma C. Dessouroux
Production : Les Délires Productions
Translation : MDR Translations
Subtitles : Cristina Dias
Speakers : Marc Meganck (Historian) – Dorien Robben (Deputy General Manager – SLRB-BGHM / Brussels Region Social Housing Agency) – Bernard Van Damme (Architect – BEAI) – Joël Lassoie (Architect – Lassoie Van Eyck & Associés)
Subtitles
FR
Le site Reyers rue Colonel Bourg est situé
NL
De Reyers-site langs de Kolonel Bourgstraat ligt
AN
The Reyers site in Rue Colonel Bourg is located

FR
à côté du futur Mediapark, de la RTBF et de la VRT.
NL
naast het toekomstige Mediapark van de RTBF en de VRT.
AN
next to what would be the future Mediapark, of RTBF and VRT.

FR
En revanche, on se trouve sur une parcelle
NL
We bevinden ons echter op een perceel
AN
By contrast, we're on a plot of land

FR
qui était inoccupée depuis des décennies.
NL
dat decennialang braak heeft gelegen.
AN
that had been unoccupied for decades.

FR
Quand on regarde les photos aériennes de l'entre-deux-guerres,
NL
Als je luchtfoto's van tijdens het interbellum bekijkt,
AN
When you look at the aerial photos taken between the two World Wars,

FR
on constate que l'on est dans des zones agricoles.
NL
zie je dat dit toen landbouwgebied was.
AN
you can see that this was in an agricultural area.

FR
Ce sont des champs.
NL
Louter velden.
AN
It was all fields

FR
Jusque dans les années 2000,
NL
Tot de jaren 2000
AN
Until the 2000s.

FR
il n'y a que le front nord du Colonel Bourg qui est bâti.
NL
was alleen de noordkant van de Kolonel Bourgstraat bebouwd.
AN
Only the Northern side of Rue Colonel Bourg is built on.

FR
On a reconstitué le tissu urbain
NL
Men wilde het stedelijk weefsel herstellen
AN
We reconstituted the urban fabric

FR
en mettant du logement.
NL
door hier woningen te bouwen.
AN
by putting in housing.

FR
Le projet de départ comprenait 100 logements.
NL
Het oorspronkelijke project telde 100 woningen,
AN
The initial project consisted of 100 housing units.

FR
Ce sont tous des logements sociaux de 1 à 5 chambres.
NL
allemaal sociale woningen met 1 tot 5 kamers.
AN
These are all social housing units, ranging from 1 to 5 rooms.

FR
Cette base de répartition de logements est restée
NL
De verdeling volgens grootte is
AN
This basis for housing distribution has

FR
sensiblement la même.
NL
grotendeels dezelfde gebleven,
AN
essentially remained unchanged.

FR
Par contre, le programme a évolué
NL
maar door een verschil in politieke keuzes
AN
But the programme has nevertheless evolved,

FR
vu que l'on est passé de 100 logements basse énergie
NL
tussen de huidige en voormalige staatssecretaris
AN
seeing that we moved from 100 low energy units

FR
à 84 logements répondant aux standards passifs
NL
voor wonen is het plan geëvolueerd
AN
to 84 units meeting passive standards,

FR
qui est un choix politique
NL
van 100 lage-energiewoningen
AN
which was a political choice following

FR
entre deux secrétaires d'État au logement qui ont changé.
NL
naar 84 passiefwoningen.
AN
a change of Secretaries of State for Housing.

FR
Le site est un peu particulier parce que c'est l'amorce
NL
De site is toch wel bijzonder omdat ze de aanzet vormt
AN
The site is rather special as it's the beginning

FR
de tout le développement de la zone Reyers.
NL
tot de hele ontwikkeling van de Reyerszone.
AN
of all development in the Reyers zone.

FR
Ce quartier va devoir recevoir de nouveaux logements.
NL
Deze wijk zal nieuwe woningen moeten krijgen,
AN
This area is going to have to get new housing.

FR
Il faudra une meilleure dynamique urbaine.
NL
er zal een betere stadsdynamiek moeten komen.
AN
A better urban dynamic is going to be needed.

FR
Un nouveau Mediapark va être construit,
NL
Binnenkort zal er een mediapark worden gebouwd,
AN
A new Mediapark is to be constructed,

FR
avec la rénovation des bâtiments de la RTBF et de la VRT.
NL
met de renovatie van de RTBF- en de VRT-gebouwen.
AN
along with renovation of the RTBF and VRT buildings.

FR
Il y aura beaucoup d'activité économique qui va venir,
NL
Er zal heel wat economische activiteit komen,
AN
There's going to be a lot of economic activity,

FR
il y aura une crèche, un parc.
NL
een crèche, een stadspark.
AN
a crèche, and a park.

FR
Le dessin n'a pas été très compliqué au niveau du traçage
NL
Horizontaal gezien was het ontwerp niet erg ingewikkeld
AN
The design wasn't so complicated in terms of plotting

FR
du bâtiment car le traçage était déjà prédéterminé.
NL
omdat de gebouwomtrek al vastlag.
AN
the building as the plotting had already been pre-determined.

FR
On a par contre fort travaillé les gabarits.
NL
We hebben wel veel aandacht besteed aan de hoogte.
AN
But on the other hand we did work hard on the templates.

FR
Le gabarit de la rue Colonel Bourg correspond
NL
In de Kolonel Bourgstraat komt de hoogte overeen met die van
AN
The Rue Colonel Bourg template matches

FR
aux logements existants de l'autre côté de la rue,
NL
de bestaande woningen aan de overkant van de straat,
AN
that of existing housing on the other side of the street

FR
qui est un gabarit rez+2, rez+3.
NL
namelijk benedenverdieping +2 of 3 verdiepingen.
AN
ground floor plus two or three floors above.

FR
On s'est vraiment aligné pour éviter tous les problèmes
NL
We hebben onze plannen er echt op afgestemd
AN
We really aligned everything to prevent any issues

FR
liés à l'ensoleillement, aux ombres
NL
om blokkering van de zoninval in die woningen en schaduwen
AN
with sunlight, or shade

FR
que nous pourrions porter avec notre nouveau bâtiment.
NL
door ons nieuwe gebouw te vermijden.
AN
that might arise from our new building.

FR
Et, ici, nous sommes dans un bâtiment plus haut,
NL
En hier bevinden we ons in een hoger gebouw
AN
And here, we are in a higher building,

FR
un rez+6,
NL
met benedenverdieping + 6 verdiepingen.
AN
ground floor plus six,

FR
mais qui correspondait plus à un gabarit
NL
Het is beter afgestemd
AN
but which matches more the template

FR
qui était prévu dans le futur développement de la RTBF,
NL
op de geplande hoogte van het toekomstige nieuwe RTBF-gebouw
AN
that is planned for the future development of the RTBF,

FR
de manière à raccrocher le bâtiment à la ville,
NL
en zo sluit het beter aan op de stad
AN
so as to attach the building to the city, and attach the entire

FR
raccrocher tout le quartier à la ville et au boulevard Reyers.
NL
en sluit de hele wijk beter aan op de stad en de Reyerslaan.
AN
neighbourhood to the city and to the Boulevard Reyers.

FR
On a développé les logements
NL
We hebben voor de woningen een heel eenvoudig
AN
We developed the housing

FR
sur un système constructif très simple :
NL
bouwsysteem gebruikt: door ervoor te zorgen
AN
on the basis of a very simple construction system,

FR
en veillant à ce que tous les logements soient traversants.
NL
dat elke woning de volledige breedte van het gebouw inneemt.
AN
ensuring that all the units were of a walk-through design.

FR
Tous ont cette double orientation : du soleil d'un côté
NL
Allemaal hebben ze ramen in twee gevels: zon aan de ene
AN
They all have a double orientation – with sunlight either on one side

FR
ou de l'autre, le matin ou le soir.
NL
of de andere kant, 's morgens of 's avonds,
AN
on one side or the other in the morning or evening.

FR
Tous ont une ventilation croisée potentielle.
NL
en kunnen ze gebruikmaken van gekruiste ventilatie.
AN
They all have a potential for cross-ventilation.

FR
Tous ont la vue vers la rue et la vue vers l'intérieur d'îlot
NL
Elke woning heeft uitzicht op de straat en op de binnentuin,
AN
They all have a view of the street and of the interior of the
FR
qui, ici, est devenu le futur cœur du projet.
NL
het toekomstige hart van dit project.
AN
courtyard which has become the future heart of the project.

FR
On a donné accès à tous les logements
NL
Alle woningen zijn bereikbaar via de binnentuin.
AN
We provided access to all units from the interior

FR
depuis l'intérieur de l'îlot. On a sorti les cages d'escaliers
NL
We hebben de trappenhuizen naar buiten gebracht
AN
of the courtyard. We put in railed stairways

FR
pour rentrer chez soi par des escaliers extérieurs,
NL
zodat de bewoners via de buitentrappen,
AN
thereby enabling residents to get home via external stairs,

FR
des terrasses et des coursives.
NL
terrassen en gaanderijen hun woning kunnen bereiken.
AN
terraces and walkways.

FR
Les escaliers en intérieur de bâtiment coûtent car
NL
Trappen in een gebouw zijn duur omdat
AN
Staircases in the interior of buildings can be costly,

FR
il faut de toute façon leur donner de la lumière naturelle.
NL
er altijd voor daglicht moet worden gezorgd.
AN
as they must be given natural light.

FR
Donc, si c'est pour leur donner de la lumière naturelle
NL
Dus om ze daglicht te geven en onderhouds-
AN
So if it's a matter of giving them natural light

FR
et pour éviter les coûts d'entretien et d'utilisation,
NL
en gebruikskosten te vermijden, hebben we de gaanderijen
AN
and avoiding maintenance and usage costs, let's put

FR
mettons ces coursives et ces escaliers en dehors du bâtiment.
NL
en trappen aan de buitenkant van het gebouw geplaatst.
AN
these passageways and staircases outside the building.

FR
Le fait qu'ils soient en dehors du bâtiment
NL
Het feit dat ze zich buiten het gebouw bevinden en,
AN
The fact that they are outside the building

FR
et donnant sur un jardin et toutes ces plantations fait
NL
in dit geval, uitkijken op een tuin met veel groen zorgt ervoor
AN
and that, specifically here, they look onto a garden and

FR
que l'on est arrivé à créer des liens entre les personnes.
NL
dat er contact ontstaat tussen de bewoners.
AN
all the greenery enables people to connect with each other.

FR
Pour Reyers par exemple, nous avons fait en sorte
NL
Voor Reyers bijvoorbeeld hebben we ervoor gezorgd
AN
With Reyers, for example, we made sure

FR
que les familles profitent d'une agréable zone verte,
NL
dat de gezinnen een heel mooie groenzone hebben gekregen
AN
that families benefited from a pleasant green area,

FR
avec un verger de magnifiques cerisiers de Schaerbeek.
NL
met een boomgaard van prachtige Schaarbeekse krieken,
AN
with an orchard of magnificent cherry trees from Schaerbeek.

FR
C'est un petit clin d'œil à l'histoire
NL
een mooie knipoog toch naar de geschiedenis
AN
It's a nod and a wink to the history

FR
de la commune de Schaerbeek.
NL
van de gemeente Schaarbeek. Niet alleen hebben we gezorgd
AN
of the Schaerbeek community.

FR
En plus de cette zone verte, nous avons aussi construit
NL
voor een mooie groenzone maar we hebben ook
AN
And apart from this green area, we also built

FR
une salle polyvalente qui contribuera sans aucun doute
NL
een polyvalente zaal gebouwd die zeker zal bijdragen
AN
a multi-purpose hall which will most definitely contribute

FR
à la cohésion sociale dans les immeubles à appartements
NL
tot de sociale cohesie in de appartementsgebouwen,
AN
to social cohesion not only in the apartment buildings

FR
mais également dans le quartier.
NL
maar ook in de wijk.
AN
but also in the neighbourhood itself.

FR
Au centre de tout ça, c'est quand même l'humain qui prime.
NL
In dit alles is het toch de mens die de hoofdrol speelt.
AN
It is of course the human being who comes first.

FR
Les gens qui vont vivre dans ces bâtiments sont au centre
NL
De mensen die in deze gebouwen zullen wonen, staan
AN
The people who are going to live in these buildings

FR
de ces projets et donc, finalement, on revient aux idéaux
NL
centraal in deze projecten. Men keert dus terug naar de
AN
are at the centre of these projects, and so we come

FR
des projets pionniers du 20ème siècle.
NL
idealen van de pioniersprojecten van de 20ste eeuw.
AN
to the ideals of the pioneer projects of the 20th Century.

FR
On est toujours là avec ces belles et grandes idées
NL
Nog altijd vertrekt men van dezelfde mooie, grootse
AN
We're always there with our big and beautiful ideas

FR
qui sont mises aux normes actuelles : un environnement
NL
ideeën, aangepast aan de hedendaagse normen: een
AN
which are upgraded to current quality standards:

FR
de qualité pour une vie meilleure et pour tous
NL
kwaliteitsvolle omgeving voor een beter leven voor iedereen.
AN
A quality environment offering a better life, for everybody.